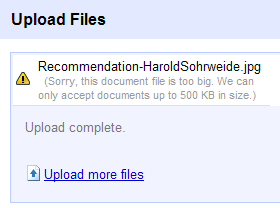 You have paper letter of recommendation.  You or your techie friend used a scanner or one of those multi-function printer/FAX/Copier/Scanner machines to scan the dcoument to a jpeg file on your USB Flash drive.  You wanted to upload the image file to Google Docs, so you go through the steps to upload the file and press the upload button.  Google Docs churns for a little while then throws up a message that your file is too big.  What went wrong & how can you fix it?
Scanner Resolution
The problem is caused by the scanner resolution.  Print quality images start at 300 dpi or (dots per inch).  If you drew a one inch square and then counted all the dots between the edges, you would count 300 dots horizontal and 300 dots vertical.  This is a lot of information.  What's worse, is that some scanners don't scan at 300 dpi but at 600 dpi.  The result is you end up with humungous files.  As you see from this example, Google Docs was not very happy with a file that exceeded their 500 KB size limit.
How to Resolve the size issue
The scanned image right now is 2 MB.  There are several applications and utilities tha can reduce the size of your image file.  One of my favorite graphic editors is Paint.Net.  I would usually use Paint.Net to adjust my image resolution.  However, I am going to suggest a relatively easy one, that you probably already have on your PC.  If you have Microsoft Office Picture Manager, then you can resize this picture using this application.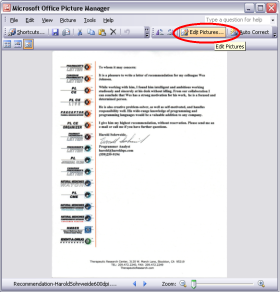 Click on the Edit Pictures button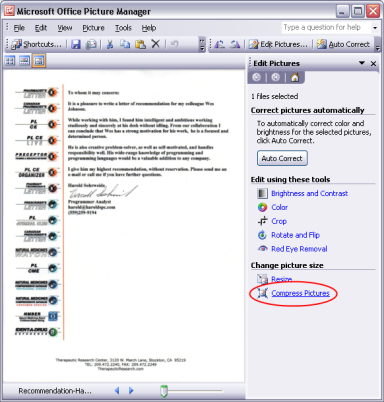 Click on the Compress Pictures LInk.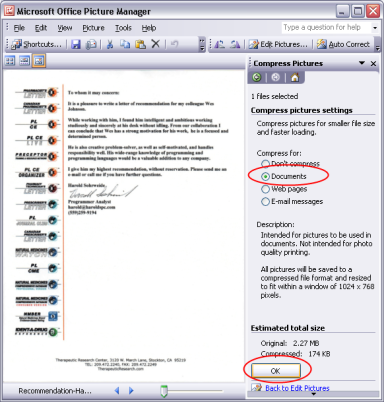 Click the Documents radio button. Then OK.
As you can see the original was 2.27 MB, it will be compressed to 174 KB.
If you don't have Microsoft Office Picture Manager, let me know.  Just install Paint.Net it's a wonderful program.  If you need directions on resizing the image using Paint.Net, just let me know.
Once you have compressed the file, it should be small enough to for Google Docs to accept it.