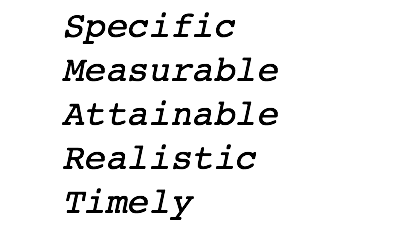 Over the last couple of weeks, I noticed that many people try to complete jobs by doing everything at once instead of breaking the job into smaller manageable tasks. Many times they get stuck trying to figure out where to start. Some people get so overwhelmed with trying to start that they end up procrastinating.  This is especially true if the job isn't time-critical in their eyes. If they don't procrastinate and start working on whatever part of the job they see, they might eventually complete the job. It hinges on the dependencies of the job.
Seeing the big picture is good. When you analyze the job as a whole you can see how all the tasks are related to each other. You can also see the dependencies of tasks on each other; which tasks must be completed before proceeding to the next.
What I'm going to suggest is already known by many successful people. But it's worth mentioning again.
Any time you want to have a positive outcome for completing a job in a timely manner, you need to have S.M.A.R.T. goals.
Specific – what, why, how
Measurable – concrete criteria for completion
Attainable – believable
Realistic – do-able
Timely – sense of urgency
Using SMART goals can be applied to any job or task. It will help you focus your efforts and be more efficient in the completion of your next job.
I'm going to use an example of moving. This job comes to mind right now because I've been helping a lot of people move.
Let's look at two different moving scenarios from house A to house B.
Random move scenario
Preparation

Reserve moving van
Schedule friends to help move
Pick up moving van

Moving

Move stuff from house A into van until full or no more stuff
Drive to house B
Move stuff from van into house B
If lunchtime then get food
If everything moved into house B you can wrap-up the move
Continue moving

Wrap-up the move

Return van
Collapse from exhaustion
SMART move scenario
Move Preparation
Plan move
Break up move into smaller tasks (dismantle, load order, unload order, assemble)
Create color-coded room maps for house A and house B
Pack and color code boxes/items for their final destinations
List tasks that need to be completed at house A
List tasks that need to be completed at house B
Add some rest and lunch breaks in the task list
Review task lists to minimize wasted time and ensure everyone stays busy
Reserve moving van
Schedule friends to help move
Schedule necessary tools for house A and house B (electric screwdrivers, hex wrenches, pliers, moving dollies, moving carts)
Pick up moving van
Moving day preparation
Color code rooms to follow the room maps
Post room maps at house A and house B
Post task lists at house A and house B
Pick up moving van
Moving
Work on one task at a time until complete
If all tasks are complete go to wrap-up
Continue moving
Wrap-up
Return van
Rest well, you just had the best move ever, a SMART move.
Even though the SMART scenario looks like it's more work to do, it actually goes more smoothly.  Each task was done in the order it needed to be and there wasn't any confusion about what needed to be done next.  As for parallel processing, that is left for the planner of the moving event.
Here are a few hints for making your move work more smoothly:
Depending on how many people you have to help, you can have a disassemble/assemble team.
You can have a team move stuff to the load-staging area.
You can have a team loading the van.