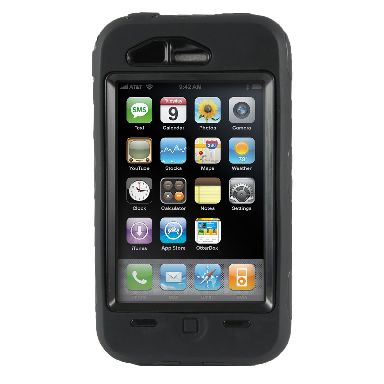 When you think about protection for a cell phone you might think about insurance. That's usually available for most cell phones, but apparenly AT&T doesn't carry insurance for the iPhone.  Probably because it has some vulnerable areas like the entire front surface made of breakable glass.  So, how are you going to protect your invesment? I see plenty of people carrying their naked iPhones or one covered with a stylish gel cover.  I guess, I'm a little paranoid, but I see people accidentally drop their phones all the time. When I bought my iPhone, I didn't want to become one of those statistics.  A replacement iPhone is very expensive. With that in mind, I purchased an OtterBox Defender Case & Holster.  Let's call this case a little bit of insurance.  The Defender costs around $50 from AT&T.
Why I like the iPhone OtterBox Defender
It has Polycarbonate skeleton that envelopes the iPhone on all sides.

The skeleton surface is raised around any point that might be vulnerable to impact.
This is a pretty amazing design.

It has a clear layer that protects the Touch Screen, Camera lens & Apple Logo.

The clear screen protective layer is attached to the skeleton, so it provides a layer that keeps out the dust.

It has a silicone skin that provides some shock protection.

The skin also covers the audio jack & iPod connector when they're not in use.
Also covered by the skin are the On/Off buttons, Silent Switch & Volume Controls
A few issues
The protective Touch Screen surface can capture air bubbles which obscures the view.

I'm not too concerned about this issue because I've seen the work-around on YouTube.
The work-around was very straight forward and appeared to resolve the issue.

The case increases the dimensions (4.87″ x 2.77″ x 0.8″) and weight (1.9 oz) of the phone
I've had the iPhone OtterBox Defender on my phone since I purchased it a week ago.  During that time, I've already dropped my phone.  I'm not going to abuse it, but I'm not taking any chances either.
BTW:  Click link "iPhone OtterBox Defender Test" to see how the iPhone survives all kinds of abuse when it's protected by the OtterBox Defender.